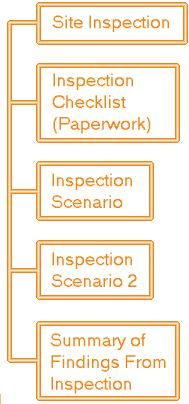 Inspection Checklist Nr. 1
This checklist deals with part work, materials and fittings in contact with the water supply.
It is worthy to note that the guidance documents for the regulations concur with the old bylaws and have banned :
Lead and any material or substance containing lead.
Any bituminous coatings produced from coaltar.
As you know from experience there are many installations that contain lead and lead pipework. It would be desirable to remove these however, this action is at the clients discretion. Careful consideration must therefore be given to jointing methods to original pipework. Hence soldering copper pipework to lead is prohibited due to contamination by electrolytic action. This was avoided in the past by the use of Plumbers Unions (gunmetal mechanical joints) and modern leadlock connections carry on this tradition.
On new installations materials must be accepted by either a British or European standard specification. Materials must display conformity symbols on the product or the packaging.
The Inspection Checklists are shown below.
Inspection Checklist Nr. 2
This checklist deals with Service Access and Internal Pipework.
The Inspection Checklists are shown below.


Click here to download the checklists as 'Word' documents.

Click here for the British Standards Institute's search page.
This requires a free registration with BSI.