INFORMATION SHEET
PROJECT TITLE Project No; 5
Erect Corners to Given Dimensions, Returns Racked CORE
and Toothed 1 of 1
Raking and Toothing.
The most economical way of laying bricks is to a line. It is for this reason that erecting large corners should be avoided.
Where it is becomes necessary to erect large corners care must be taken to ensure the stability of the wall is not lost.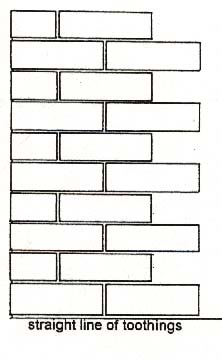 It is not practical to fully rackback a large corner, so to reach the required height toothing has to be introduced.
What should be avoided is a vertical line of toothings as this will greatly reduce the stability of the wall.
It is virtually impossible to provide a fully compacted joint below each of the toothings.
The stability can be improved if the corner height is achieved by a combination of racking and toothing.
Toothing should be left clear of surplus mortar as the corner is erected. This will avoid costly time later spent cutting away dry mortar and help avoid damaging the face of the wall.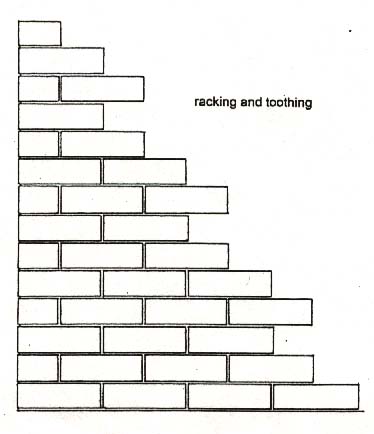 When building into toothings care must be taken to compact the bed joint in below the toothing. It must also be noted that some specifications forbid the use of toothings on a contract.