INFORMATION SHEET
PROJECT TITLE Project No; 11
Run into Pre-erected Corners Build in Intermediate attached CORE
Piers Cap Wall with Brick on End 1 of 1
Brick on End and brick on Edge Cappings.
General Information
Bricks laid on end and on edge are often used as capping to boundary walls.
Because of the exposed nature of boundary walls, they do not provide the best protection unless they are built in conjunction with a tiled creasing and cement fillet. The bricks used for this purpose should be engineering quality or a hard burnt facing brick.
When building a brick on end or soldier course, as they are commonly referred to, care must be taken to ensure they remain upright and have full cross-joints.
Diagram.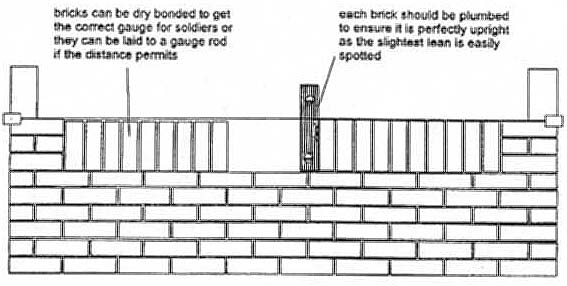 When the bricks used for a capping have deep frogs, it is essential the frog be fully filled with mortar.
This can be achieved by placing the mortar cross joint directly onto the frog side of the brick.